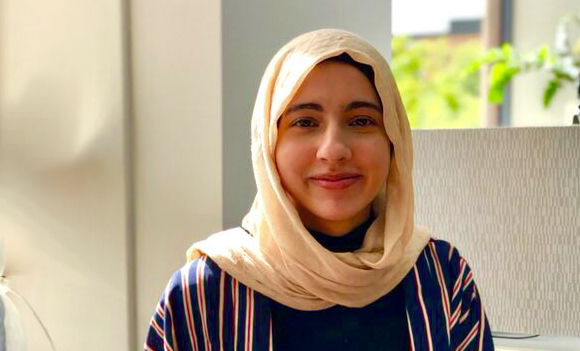 Tabarak Abdellatif (Tabz A.), is a self-taught artist and aspiring graphic designer with a focus on visual identity, illustration and packaging design.
At the age of 21, Tabarak has managed to host her first solo art exhibition, held last March. She also had her work displayed at the Museum of Contemporary Art, as part of the 2014 Refugee Arts Project campaign.
Earning a degree in design at Western Sydney University, has equipped Tabarak with the skills and experience to explore and expand her potential, grow as an artist and a designer. This enabled Tabarak to transform her creativity into a career in graphic design that she is enjoys and is passionate about. Her decision to study design was based on the creative aspect involved in the field, and the constant evolving nature of the design industry. She feels satisfaction and a sense of accomplishment from transforming ideas and imaginations into physical or visual forms and seeing her work come to live.
WayAhead's Tips to Stress Less have been a widely used resource for years, and thanks to amazing feedback from people from all walks of life, we've started collaborating to create tips that respond to different communities.
The tips for uni students were created with students, for students. Here's a little bit about our process.
These tips were created as a collaboration between WayAhead and Western Sydney University.
To ensure the promoted tips were effective and relevant, the research team implemented a four-stage data collection process:
In the first stage, the research team conducted a literature review scoping evidence-based research from peer-reviewed publications that evaluated self-directed stress management strategies for university students.
Simultaneously, the team conducted focus groups with student-facing professionals from across the prevention spectrum of three universities; namely Western Sydney University, University of New South Wales and Australian National University. Specifically, this included various health promotion and chaplaincy staff who support primary and early intervention, to counsellors, disability and welfare staff who support students' secondary and tertiary prevention. The aim of the focus groups was to hear from front-facing staff what are the issues students are reporting to them and what strategies they promote to students to manage their stress. They were also asked about the strategies they are aware students are engaging in and that, from their experience, seem to bring positive results.
Using the information collated from the first stage, in stage two the research team developed a survey tool consisting of 18 groups of self-directed stress management strategies. Participants – all university students – were asked to reflect on their own practises and choose all strategies they use to support managing their stress while at university. They were also asked to add any other self-directed stress management strategies in which they engage but that were not included in the original group of 18.
A total of 3302 responses were secured as part of the stage 2 processes. The absolute and relative frequencies of each strategy were annotated and the top choices were used to inform the second survey tool.
In the third stage, participants were asked to review thirty tips that were developed based on student responses to stage 2 on a second survey tool, but this time ranking their top ten recommendations (i.e. what they would recommend to their fellow students). This stage provided a total of 1003 responses.
For the final stage of developing the current Ten Tips to Stress Less for University Students, the method to rank strategies considered not only the frequency that each strategy was selected but also the rank attributed by each participant. Each strategy received points corresponding to the inverse order of its rank. For instance, the strategy ranked first by a participant received ten points. The strategy ranked second by the same participant received nine points. The strategy ranked tenth by the same participant received one point. These rankings were weighted by the total frequency each strategy was selected and the final score calculated to select the ten strategies with the highest scores.
If would like additional information on the research conducted please contact Rowena Saheb, Mental Health and Wellbeing Promotions Coordinator, Western Sydney University. r.saheb@westernsydney.edu.au
To continue the collaboration, students and young people were asked to submit artwork and design for the tips, and Tabarak Abdellatif was the successful designer who created the incredible artwork for the tips.